Friends of the Murrieta Library | P.O.Box 235 | Murrieta, CA 92564



Why Become A Member of the Friends?
For as little as $15 annually, you can be part of a great community effort lending your support to the library and to the Friends of the Murrieta Library. And your annual dues are tax deductible as a charitable contribution.
Of course, we more than welcome your membership at our other levels of support ... Family level is $20; Supporting is $25; Patron is $50; our Lifetime members at $250 receive a gold engraved leaf on the Giving Tree located in the Library. A business membership is $100.
You will meet people with similar interests at our general meetings where guest authors and persons of note are invited to speak. Meetings are the third Tuesday of the month at 10am in the Library's Community Room. We do not meet during July and August.
As a member you will receive a Friends decal and a copy of our bimonthly Booknotes newsletter, which keeps you abreast of various activities and fundraiser's.
You can volunteer at the Bookstore and purchase books at a discount.
You can participate in as many of our volunteer opportunities as you choose.
Thank you for your interest!
Friends of the Murrieta Library Membership Application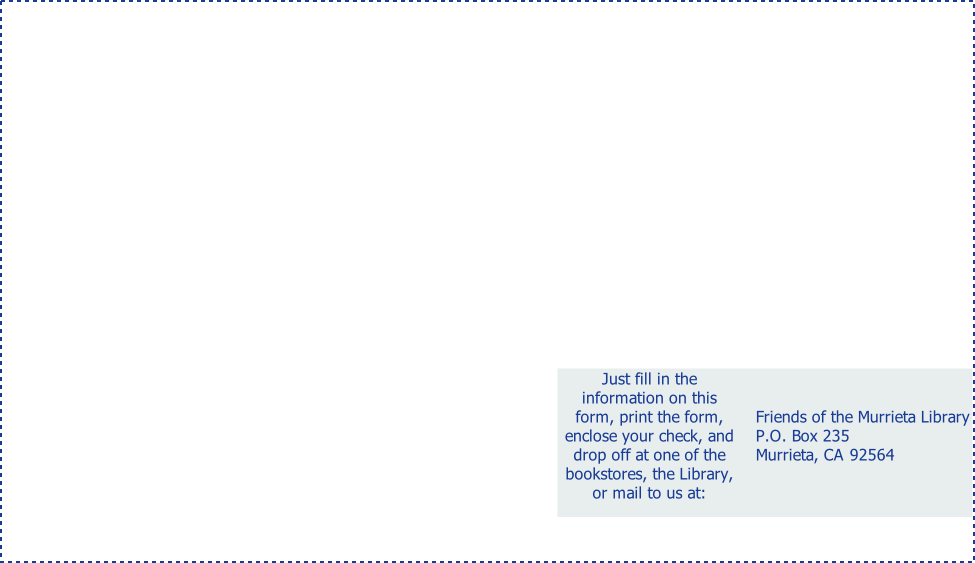 We have added a Donation button through PayPal so that you can
donate to the Friends, OR pay your annual dues (due June 1st of each year).
You DO NOT need a PayPal account to use this feature!!
You can safely use your Debit OR Credit Card to donate.
After you enter the dollar amount, there is a link to 'add special instructions'
so we know how to apply your donation.
Questions can be directed to donate@murrietalibraryfriends.org
You can donate two ways . .
Click on the 'Donate" button above, OR
Fill out the below form, print it and enclose your check and mail to us.